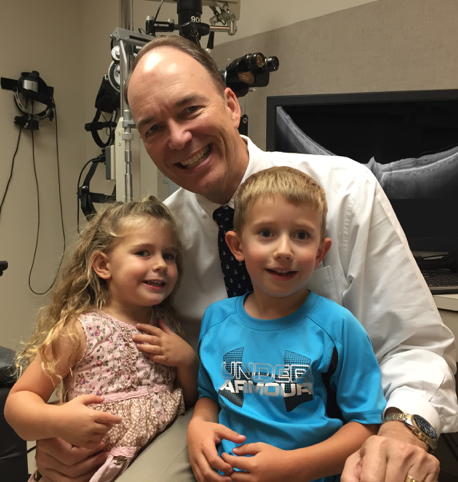 Our goal is to inspire you to either join the fight against inherited retinal disease or adapt some of our educational and management strategies for some other societally important effort (or both).
Most Tuesday nights for the past 25 years, Dr. Stone has met with residents, fellows, students, nurses, research staff and faculty members in the Blodi Conference Room at the University of Iowa to discuss the diagnosis, management and pursuit of cures for the patients seen in the Inherited Retinal Disease Clinic that day. As with most "rounds" in an academic setting, the discussion floats from interesting clinical details to management challenges, from historical anecdotes to the vagaries of molecular genetics, from research methods to career advice—always infused with the idea that by meeting and talking we will get closer to the eradication of the human suffering caused by inherited retinal diseases.
Although we cannot completely re-create the atmosphere of a live, twenty-person gathering with a website, we have been able to include all of the types of information we usually discuss. And, we have been able to include MANY more cases and images than we would ever be able to present "live".
Components of the StoneRounds System
StoneRounds is a collection of five types of information:
The heart of the site is a large (and growing) atlas of de-identified clinical information obtained from individuals seen with inherited retinal disease of known molecular cause. The images from the atlas, while copyrighted by the University of Iowa, can be freely downloaded as images or PowerPoint presentations by anyone who wishes to use them for nonprofit educational purposes or research. The Atlas has been organized using a classification system that we devised by studying 1000 consecutive families in the Iowa Inherited Retinal Disease Clinic (Stone, et al., 2017).
Many of the cases from the Atlas can also be viewed in a simulator that has been designed to emulate the decision-making challenges facing a busy faculty member seeing complicated inherited retinal disease patients in a clinic with very competent house officers. The house officers have gathered TONS of information. In what order do you want to see it? How much of it do you want to see before making a diagnosis? How quickly can you get close to the correct diagnosis? This simulator will score your efficiency in getting to the right answer. Challenge your colleagues to beat your cumulative score!
This section contains a series of narrated lectures and written summaries that cover the basic features of the anatomy and physiology of the retina as well as the cardinal clinical features of the most important inherited retinal diseases. Some of these lectures also have associated self-assessment tests and other study aids to help you gauge and/or solidify your understanding of the material. Once you have a good understanding of all the material in this section, you will be ready to gain a more in-depth knowledge of these diseases in a more realistic clinical setting using the Clinic Simulator.
We have also developed a group teaching mode that provides a framework for guided learning in Inherited Retinal Diseases using the cases available on StoneRounds.org. Instead of an instructor projecting their session in a room and soliciting the audience for input and opinions, the students can participate using their own devices from any location with an internet connection. Group teaching sessions encourage students to explore the clinical data in a self-guided fashion and allows students to individually work on developing complete or partial diagnoses, while the instructor highlights important features to the group. This same framework allows the instructor to observe students' diagnostic thought process in real time. A document describing how to create new teaching sets, and how to join existing group teaching sessions can be found here.
The media section contains links to recorded lectures, educational videos, related websites and other audio/visual content.
Curing heritable blindness will require more than technology. It will require teams of dedicated people, with a clear vision of their mission and a positive attitude that they can overcome any adversity. Success Camp contains a collection of writings that we have found useful for building teams, creating shared vision and developing an unshakable positive attitude.
StoneRounds is supported entirely by contributions from generous individuals. We are especially indebted to Dr. Mark J. Daily, a vitreoretinal surgeon in Wheaton, Illinois, whose very generous lead gift transformed this project from a very ambitious idea to a functional multimedia educational resource that is freely available to anyone in the world with a computer, a tablet or a smart phone.
Dr. Mark J. Daily
Wheaton, Illinois
Dr. Daily writes: Three major developments in ophthalmology have occurred during my 45 years of training and practice: intraocular lenses, pars plana vitrectomy and genetic identification of inherited retinal diseases. Dr. Edwin Stone and his co-workers at the University of Iowa have been at the forefront of molecular discoveries to explain the clinical observations that have been made for 160 years regarding diseases such as retinitis pigmentosa. He has gathered together the wealth of his knowledge in a format that is accessible around the globe to educate and stimulate his colleagues in ophthalmology to care for and, one day, prevent and cure inherited retinal diseases. I am pleased to be a small part of that effort.